Wijnaldum slots home Netherlands' opener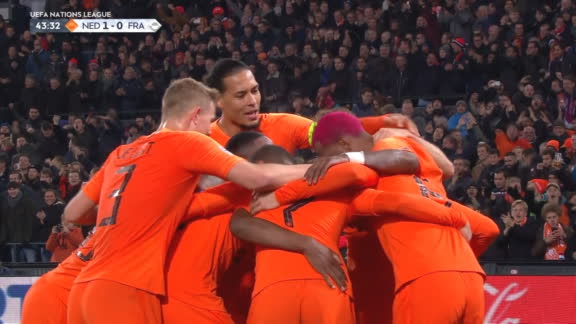 England 3-0 United States: A winning send-off for Rooney
The next generation of England stars ensured Wayne Rooney's final game ended with a win as the Three Lions cruised to victory over the U.S.
Southgate wants discipline from young England side
Gareth Southgate has a warning for his England team ahead of their UEFA Nations League match with Croatia.
England trending upward; United States lacking direction
The FC crew share their takeaways from the friendly between England and the U.S., highlighting the USMNT's need for direction and a permanent coach.
Rooney: It was an emotional moment for me
Wayne Rooney reflects on his final game for England and discusses the initiatives of the Wayne Rooney Foundation, for which his farewell match was dedicated.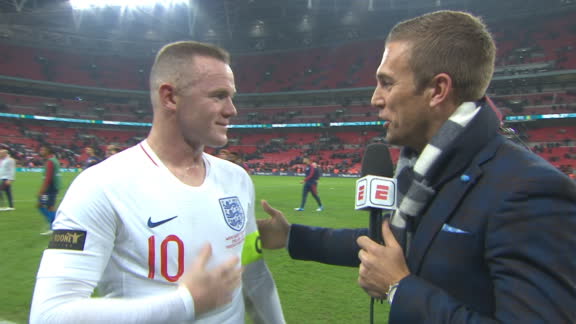 Wilson adds to England's lead with debut goal
Callum Wilson became the first ever Bournemouth player to score for England with the Three Lions' third goal against the U.S.
Rooney comes on for final England appearance
Wayne Rooney takes the field for the 120th and final time in a Three Lions uniform.
Alexander-Arnold quickly doubles England's advantage
International Friendly: Trent Alexander-Arnold (27') England 2-0 United States
Lingard bends in a beauty for England
International Friendly: Jesse Lingard (25') England 1-0 United States
EXCLUSIVE: Pulisic opens up on Dortmund future
Christian Pulisic talks exclusively to Taylor Twellman about his future with Borussia Dortmund and the adversity of suffering a few injuries.
Football Agents: Everyone gets an England cap!
The Exploding Heads turned football agents are back! In this edition, they field calls from former England players looking for one final appearance, a la Wayne Rooney.
Transfer Rater: Pulisic to Liverpool? Almiron to Newcastle?
Shaka Hislop sifts through all the latest transfer rumours surrounding Miguel Almiron, Aaron Ramsey, Christian Pulisic and many more in Transfer Rater.
Pulisic EXCLUSIVE: New USMNT manager must have 'great plan'
Christian Pulisic speaks exclusively to ESPN FC about being a leader for the USMNT, his best position and his hopes when the U.S. appoint a new manager.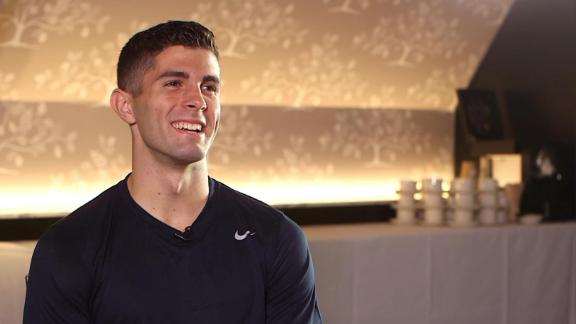 England 3-0 United States: A winning send-off for Rooney
The next generation of England stars ensured Wayne Rooney's final game ended with a win as the Three Lions cruised to victory over the U.S.
Croatia 3-2 Spain: Jedvaj delivers dramatic victory
Tin Jedvaj scored his 1st-career goal for Croatia, then netted his 2nd in stoppage time to give Croatia a 3-2 win over Spain in the UEFA Nations League.
Germany 3-0 Russia: Sane shines for Die Mannschaft
Leroy Sane, Niklas Suele and Serge Gnabry secured the victory for a side with just two 2014 World Cup winners in the starting lineup -- goalkeeper Manuel Neuer and Matthias Ginter.
Belgium 2-0 Iceland: Batshuayi lifts Belgium
Michy Batshuayi scored twice in the 2nd half to help Belgium defeat Iceland 2-0 in the UEFA Nations League.
Hungary 2-0 Estonia: Hungary breezes by Estonia
Two headers was the difference for Hungary as they took care of business at home against Estonia for the three points.
Greece 1-0 Finland: Own goal saves Greece
Albin Granlund's own goal cost Finland the game, as Greece went on to secure three points at home.
Afif stuns Swiss with late winner for Qatar
Akram Afif broke the deadlock with a late counterattacking run as visitors Qatar got the better of Switzerland in Lugano.
Andorra 1-1 Georgia: Hosts steal a point
Cristian Martinez's free kick ensured Andorra went home with a share of the points against Group D rivals Georgia.
Scotland 0-1 United States: USWNT end 2018 unbeaten
Alex Morgan scored her 25th goal in her past 26 matches for the United States in a 1-0 win at Scotland, ensuring the USWNT finished 2018 unbeaten.
Prem: Top goals from Week 12
Relive the top strikes from Week 12 of the 2018-19 Premier League season, which include a side-footed volley from Liverpool's Xherdan Shaqiri.
Manchester City 3-1 Manchester United: Aguero powers City
David Silva, Sergio Aguero and Ilkay Gundogan all scored for Manchester City as they dominated Manchester United in a 3-1 victory.
Milan 0-2 Juventus: Juve's dream, Higuain's nightmare
Gonzalo Higuain lived out a nightmare at the San Siro, missing a penalty and seeing red in Milan's loss to his former side, Juventus.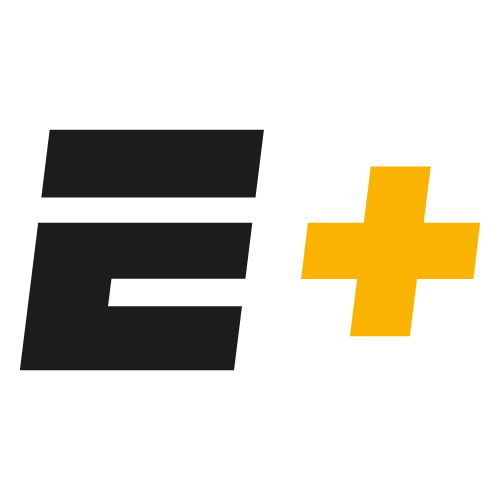 ESPN FC DAILY
Streaming Now on ESPN+
The crew react to the United States' 3-0 loss to England and Croatia's late thriller against Spain.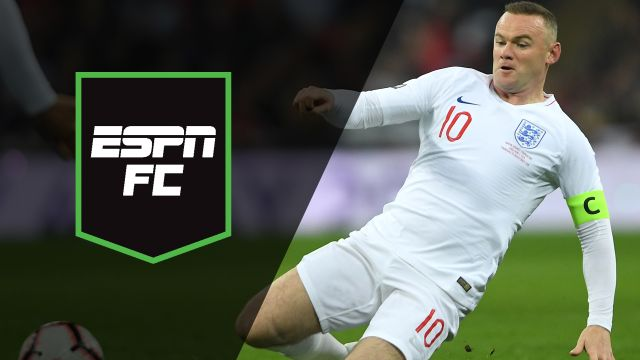 Thiem shows off keepy-up skills with Chelsea's Willian
Dominic Thiem showed off his keepy-up skills with a tennis ball in front of Chelsea star Willian.
ESPN Fantasy Football promo

Manage your squad in the Premier League, Champions League, La Liga and Liga MX.

Freak City for ESPN

Deliberate isolation. Petty feuds. Constant turmoil. The Manchester United manager wouldn't have it any other way.

Filippo Monteforte/AFP/Getty Images

Roma beat Lazio, but the derby doesn't end, it merely pauses. Because like the city that birthed both clubs, it is eternal.

Aurelien Meunier/Getty Images

When you win the World Cup at 19, where is left to go? This is the challenge -- and possible nightmare -- facing Kylian Mbappe, writes Simon Kuper.

Angel Martinez/Real Madrid via Getty Images

The biggest problem with the Champions League is that it's trying to be everything to everyone. It's time for the tournament to go rogue.

ESPN Illustration

Ten years ago, Sheikh Mansour of Abu Dhabi bought Man City, transforming the club from Premier League punchline to a dynasty in the making.

VCG

"I feel like people at Liverpool and Man City are looking at us and laughing like we did at them many years ago." Andy Mitten sits with the Man United legend.

Getty

Welcome to the life of the third-choice goalkeeper, football's version of the perpetual understudy.

ESPN

Getty

Nick Hornby: This summer had English fans believing again. But was the team's semifinal run really that impressive?

Marvel

It might not be part of the traditional comic book universe, but Marvel laced up its boots to bring you the epic stories in Russia.

Dave Merrill

"I never walk out of games early but in these circumstances, staying seemed like a form of self-harm." Nick Hornby on the last days of Wenger.

USA Today

Who should be blamed for the U.S.' World Cup qualifying failure? Do young American players get sufficient playing time? What about pro / rel, salaries and dream signings?

Trey Ingram

Our intrepid writer suffers -- and suffers some more -- through a player medical at Everton.

Brian Konnick

We select the best players under 21 who are primed to rule the football galaxy.

ESPN

MLS Rivalry Week is full of contentious clashes. Here are some of the best in unique video game format. Ready ... FIGHT!

EPA/FERNANDO BIZERRA JR

In November 2016, Brazilian underdogs Chapecoense boarded a plane to play in the game of their lives. Instead, their biggest moment turned into a tragedy no one can forget.

Getty

Check out the completed deals from all the major leagues this summer.

Getty

Keep track of all the important upcoming fixtures in the Premier League, Champions League, La Liga, English Football League and more.

Getty

Results and scores from the Premier League, Champions League, La Liga, English Football League and more.

Getty

Updated tables from the Premier League, Champions League, La Liga, English Football League and more.
Customize ESPN