Salah wins 2018 Puskas Award: Seriously?
Craig Burley says football fans made a "pig's ear" of the vote for the Puskas Award, which was won by Mohamed Salah's goal against Everton.
FIFPro World XI: What were they thinking?
The FC guys air their grievances with the FIFPro World XI selections, noting that Dani Alves and Eden Hazard were especially confounding choices.
Was Modric the most deserving of FIFA's The Best award?
The ESPN FC crew assess Luka Modric's credentials after he claimed The Best FIFA Men's Player award over Cristiano Ronaldo and Mohamed Salah.
Best FIFA Men's Player: Luka Modric
Croatia captain and Real Madrid star Luka Modric has been named the Best FIFA Men's Player in 2018 after winning the Golden Ball award at the World Cup.
Best FIFA Men's Goalkeeper: Thibaut Courtois
Real Madrid and Belgium's Thibaut Courtois has been named the Best FIFA Men's Goalkeeper in 2018 after winning the Golden Glove award at World Cup in Russia.
Womens Ballon dOr announced for 2018
A women's Ballon d'Or will be won for the first time in its history this year to recognise a player's exceptional talents at club and international level.
Premier League in 90 seconds: Don't hug Harry Kane so hard
All the happenings from the Premier League weekend, brought to you by the Exploding Heads in a convenient 90-second (plus stoppages) package.
Ogden: Mourinho not showing he can turn things around
Mark Ogden reflects on Jose Mourinho's comments following Man United's draw against Wolves, raising his concerns about the manager's belief in his squad.
Pogba acting like a leader off the pitch, not on it
ESPN FC's Mark Ogden has some sobering words for Paul Pogba, urging the midfielder to talk less and do more for Manchester United.
So, you think you're Ronaldo's biggest fan?
Tensions are mounting between the Exploding Heads as they argue over which one of them is Cristiano Ronaldo's biggest fan.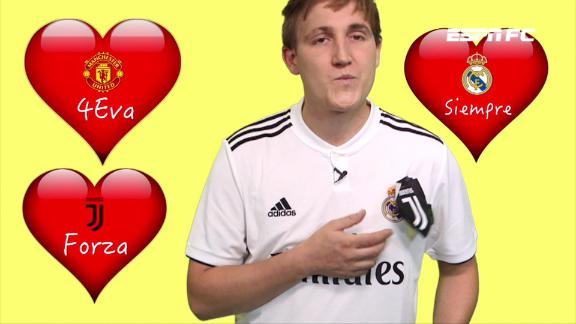 Extra Time: Happy birthday, Craig Burley!
The ESPN FC panel answer your tweets and celebrate Craig Burley's birthday.
Premier League Team of the Weekend: Week 6
Steve Nicol breaks down his best XI from the sixth week of Premier League action and defends his inclusion of Pablo Zabaleta.
English Premier League
Premier League: 25 goals in 90 seconds
Check out all 25 goals from week 6 of the Premier League, including a five-star performance from Man City against Cardiff.
Prem: Top saves from Week 6
Relive the top stops from Week 6 of the 2018-19 Premier League season, including a diving save from Lukasz Fabianski against Chelsea.
Prem: Top goals from Week 6
Relive the top strikes from Week 6 of the 2018-19 Premier League season, including a top-corner finish from Alexandre Lacazette against Everton.
West Ham 0-0 Chelsea: Hammers waste golden opportunity
Andriy Yarmolenko had a painful miss in front of goal which could have given Manuel Pellegrini's West Ham their statement win of the young Premier League season.
Brighton 1-2 Tottenham: Spurs hold on
Tottenham Hotspur bounced back from a string of poor results to secure a hard-fought 1-2 win over Brighton & Hove Albion.
Man United 1-1 Wolves: Moutinho strike frustrates United
Joao Moutinho's fantastic second-half goal was enough to give his Wolves side a deserved point at Old Trafford.
Sir Alex Ferguson makes Old Trafford return
Sir Alex Ferguson was honoured by the club after returning to Old Trafford for the first time since having emergency brain surgery in May.
Liverpool 3-0 Southampton: Reds maintain 100% record
Liverpool cantered past a limp Southampton at Anfield to stay perfect in the Premier League this season.
Cardiff City 0-5 Manchester City: Mahrez at the double
Man City rebounded after their Champions League defeat by putting five goals past Cardiff City.
Burnley 4-0 Bournemouth: Clarets' misery fades away
Burnley picked themselves up off the bottom of the Premier League against Bournemouth, showing signs of their 2017-18 form in a rout at Turf Moor.
Ale's 'You Know It, You Love It' MLS Awards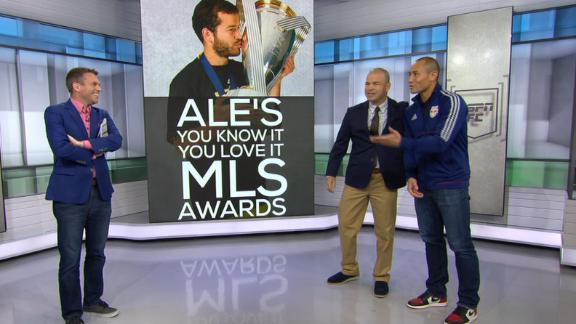 Red Bulls' Robles & Davis showcase FIFA 19 skills
New York Red Bulls' Luis Robles and Sean Davis stopped by ESPN to square off in FIFA 19 and see how accurate their player ratings are in the game.
Luis Robles: Red Bulls continuing to grow in confidence
Goalkeeper Luis Robles joins ESPN FC to discuss the Supporters' Shield race, the New York Red Bulls' coaching transition and much more.
Can D.C. or New England steal a playoff spot?
LA Galaxy 3-0 Seattle Sounders: Galaxy shine in 'must-win' game
The Galaxy put some pressure on Seattle for the final playoff spot in the west by beating them 3-0 on Sunday. - Via MLS
Vancouver 1-2 FC Dallas: Dallas reclaim top spot
FC Dallas' 2-1 victory over Vancouver saw them reclaim the top spot in the Western Conference while dealing the Whitecaps a critical blow in their hunt for a playoff spot. - Via MLS
Philadelphia 2-0 Sporting KC: Simpson seizes his moment
Philadelphia's rotation ahead of the U.S. Open Cup final gave Jay Simpson his chance to break an 18-month scoring drought in a win over Sporting KC.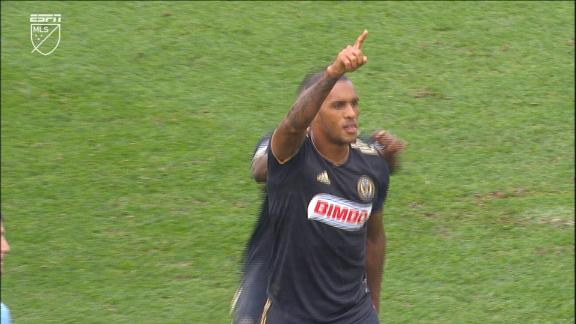 New York 2-0 Toronto: Red Bulls keep eyes on Shield - Via MLS
New York took care of business against Toronto FC, keeping pace with Atlanta United ahead of a crucial clash in the race for the Supporters' Shield.
Atlanta 2-0 RSL: Gressel lifts Atlanta - Via MLS
Julian Gressel scored a goal and assisted Hector Villalba, as he led the Five Stripes to an easy victory over an overmatched Real Salt Lake.
Minnesota 3-2 Portland: Loons strike early - Via MLS
A brace by Romario Ibarra and a goal from Michael Boxall in the first half was enough for Minnesota to hold off the Portland Timbers for a 3-2 home win.
LAFC 2-0 San Jose: Defense the best offense
Montreal 1-1 NYCFC: Pigeons settle for draw - Via MLS
Micheal Azira's first MLS goal spoiled NYCFC's chance to clinch a playoff birth, as Montreal earned a point to keep postseason hopes alive.
Feyenoord's Berghuis dives after pat on the head
Feyenoord's Steve Berghuis collapsed to the ground following a gentle pat on the head from Utrecht's Willem Janssen during their 1-0 win in Rotterdam.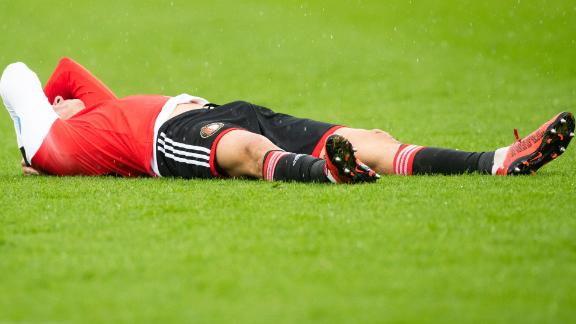 So, you think you're Ronaldo's biggest fan?
Tensions are mounting between the Exploding Heads as they argue over which one of them is Cristiano Ronaldo's biggest fan.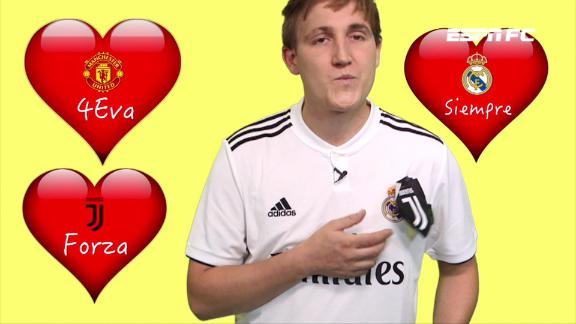 Neymar comforts young crying fan
Neymar gave a hug and his jersey to a young fan who entered the field in tears as Neymar was subbed out of the game in the 91st minute.
ESPN Fantasy Football promo

Manage your squad in the Premier League, Champions League, La Liga and Liga MX.

Getty

Check out the completed deals from all the major leagues this summer.

ESPN Illustration

Ten years ago, Sheikh Mansour of Abu Dhabi bought Man City, transforming the club from Premier League punchline to a dynasty in the making.

Getty

Welcome to the life of the third-choice goalkeeper, football's version of the perpetual understudy.

ALESSANDRO DI MARCO/EPA

Brian Phillips: For some reason, Cristiano Ronaldo has as many haters as fans. Do we have him all wrong?

ESPN

Rafa Alvarez

A host of top European clubs have changed their manager. Some by choice, while others were forced into it. Here's what we can expect from the new arrivals.

Getty

Nick Hornby: This summer had English fans believing again. But was the team's semifinal run really that impressive?

Marvel

It might not be part of the traditional comic book universe, but Marvel laced up its boots to bring you the epic stories in Russia.

Paul Lacolley

ESPN FC commissioned illustrator Paul Lacolley to create team posters for some of the nations competing at the 2018 World Cup in Russia.

Gian Galang

They battle in the forest, soccer gang against soccer gang. They are the underground fighters the World Cup host doesn't want you to see.

David Merrell

Top-class football is changing before our eyes: The "storming" era of the game is leaving the likes of Jose Mourinho and Arsene Wenger behind.

Dave Merrill

"I never walk out of games early but in these circumstances, staying seemed like a form of self-harm." Nick Hornby on the last days of Wenger.

USA Today

Who should be blamed for the U.S.' World Cup qualifying failure? Do young American players get sufficient playing time? What about pro / rel, salaries and dream signings?

Trey Ingram

Our intrepid writer suffers -- and suffers some more -- through a player medical at Everton.

Dave Flanagan

The world's top soccer players, ranked by position.

Brian Konnick

We select the best players under 21 who are primed to rule the football galaxy.

Aaron Dana

Cristiano Ronaldo isn't just one of the greatest on the pitch; he's the G.O.A.T. off it, too. Take a trip inside the mad world of CR7's brands.

ESPN

MLS Rivalry Week is full of contentious clashes. Here are some of the best in unique video game format. Ready ... FIGHT!

EPA/FERNANDO BIZERRA JR

In November 2016, Brazilian underdogs Chapecoense boarded a plane to play in the game of their lives. Instead, their biggest moment turned into a tragedy no one can forget.

Getty

Keep track of all the important upcoming fixtures in the Premier League, Champions League, La Liga, English Football League and more.

Getty

Results and scores from the Premier League, Champions League, La Liga, English Football League and more.

Getty

Updated tables from the Premier League, Champions League, La Liga, English Football League and more.
Customize ESPN