Wizards, Heat get into scuffle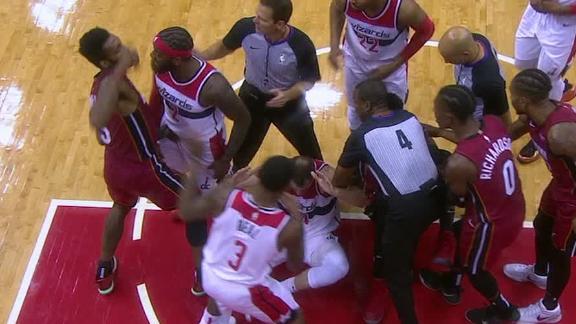 Fultz hits 3-pointer, crowd erupts in Sixers win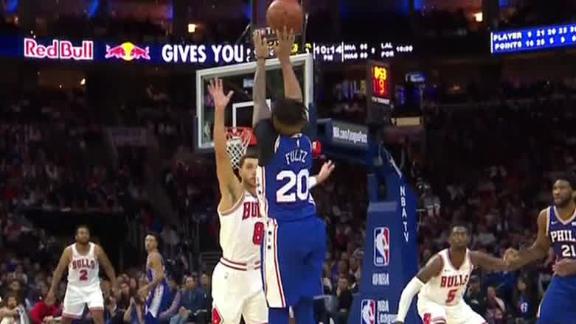 First buckets for the rookies
Ayton backs down Doncic for first points
Deandre Ayton backs his way towards the basket for a layup and the foul for his first career points in the NBA.
Bagley records his first career basket
Marvin Bagley III scores his first career basket with the sweet turnaround hook shot.
Jackson scores his first NBA bucket
Jaren Jackson Jr. gets an easy layup to record his first bucket with the Memphis Grizzlies.
Young flips up first basket
Trae Young gets into the lane and hits a one-handed shot.
Doncic eases to basket for first points
Wesley Matthews passes the ball to Luka Doncic, who drops in an easy layup for his first career NBA points.
Bamba drives past Olynyk for first NBA points
Mo Bamba uses a nice jab step to create space on a drive against Kelly Olynyk and scores off glass.
Davis dominates in Houston
Anthony Davis has all facets of his game working, scoring 32 points, collecting 16 rebounds and dishing out 8 assists in the Pelicans' win over the Rockets.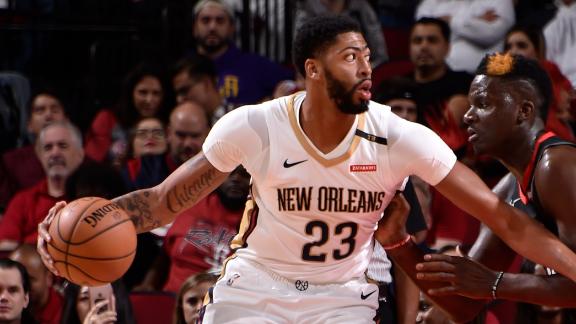 Payton feeds Davis on the alley-oop
Elfrid Payton tosses a pass up to Anthony Davis, who finishes with a two-handed dunk.
Melo on coming off the bench: 'Challenging mentally'
Carmelo Anthony addresses coming off the bench and how he is going to adjust.
Mirotic on fire from beyond the arc
Nikola Mirotic turns it up against the Rockets as he scores 30 points and goes 6-for-8 from 3-point land.
Davis finishes alley-oop with ease
Elfrid Payton drives downcourt and lobs a pass up to Anthony Davis, who finishes with the two-handed flush.
Mirotic makes a nice cut for the score
Jrue Holiday passes the ball to Nikola Mirotic, who makes a nice cut to the basket and sinks a layup.
Davis' dime leads to Holiday layup
Anthony Davis bounces a pass behind his back to Jrue Holiday, who finishes with a layup.
Davis drives to float in and-1
Anthony Davis dribbles towards the bucket and floats one in while drawing a foul.
Carmelo connects on first two shots as a Rocket
Carmelo Anthony pulls up and knocks down a midrange jumper and then a 3-pointer on the next possession for his first points as a Rocket.
Capela throws it down after pass from Harden
James Harden lobs a pass up to Clint Capela, who finishes with a powerful one-handed jam.
Tatum puts on a show in season opener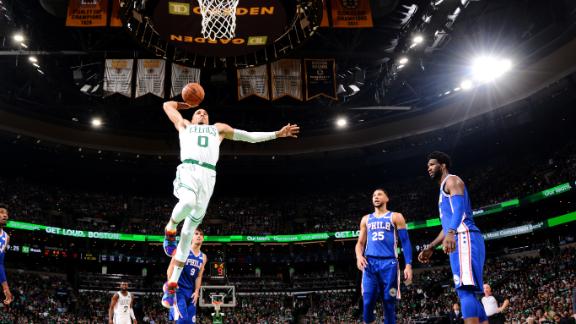 Embiid: 'This is not a rivalry.'
Joel Embiid knows the 76ers didn't play well and says it was particularly hard losing on a national stage, but he has hope for the future.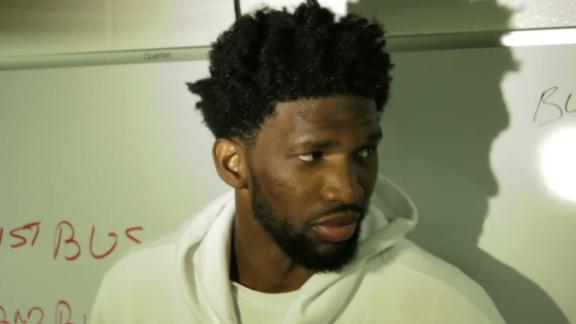 Customize ESPN

Sign up for FREE!
Thearon W. Henderson/Getty Images

Healthier than he's been in years, D-Rose is ready to prove he can still hoop.
Rocky Widner/NBAE via Getty Images

Which NBA teams have bragging rights, and which are the most miserable? The Sports Misery Index rates the NBA 1-30.
Brian Babineau/NBAE/Getty Images

Zach Lowe breaks out his comprehensive guide to the most watchable (and least watchable) NBA teams, ranked from 30 to 16.